How Can Cold Weather Harm My House?
12/30/2021 (Permalink)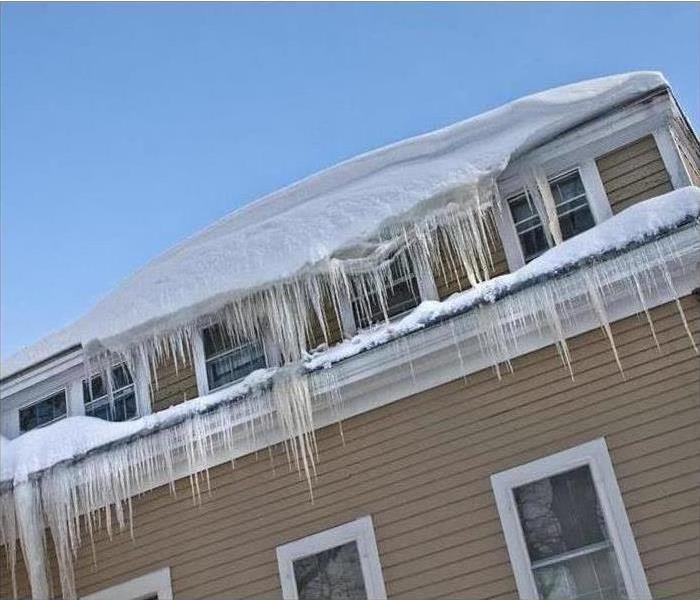 If there's one thing we know and can expect in the Northeast during the winter, it's frigid temperatures. Snow, ice and dry air make our skin all the more susceptible to the cold temperatures we are dealing with. It's an ongoing struggle but one we face each year. Besides just ourselves, however, our house has to be prepared for the battleground that is winter. While it may be obvious at first, the winter season can cause both home damage and water damage. Here are just a few of the potential consequences a house can suffer from, due to the cold temperatures.
Exterior Damage
Because a house tends to shift a lot with heat and cold, when the colder temperatures start to arrive, it makes the house shrink in on itself. This can cause certain parts of the exterior to crack and if not properly insulated, it can suffer greatly from the contraction of the house. Pieces can start to chip off, and the next thing we know, we have ourselves quite a bit of home damage.
Water Leaks
Perhaps the biggest threat to the home is the plumbing. You've likely been told many times to regularly drain water through your pipes to keep them from freezing. There's wisdom in that suggestion. A pipe that freezes can't utilize pressure properly to push water through the pipe. Instead, all of that pressure is built up until it explodes and we have water pouring everywhere and a ton of nasty water damage.
Potential Fire Hazards Due To Heat Needs
To keep out the cold, we drive those inside temperatures up. However, the furnace isn't infallible. It can break down, or worse, start a fire. Furnace fires are not uncommon and it can engulf an entire house before anything can be done. Make sure you're having this inspected at least once per year.
SERVPRO of Ronkonkoma is a locally owned and operated business with the team and resources to handle disasters of any size. We know that issues like these can be stressful, especially inside your own home, and we are here to make the restoration process as seamless as possible. For mold restoration services, call us at 631-296-0367 or contact us online for immediate assistance!