How Do You Recover from Storm Damage?
8/29/2022 (Permalink)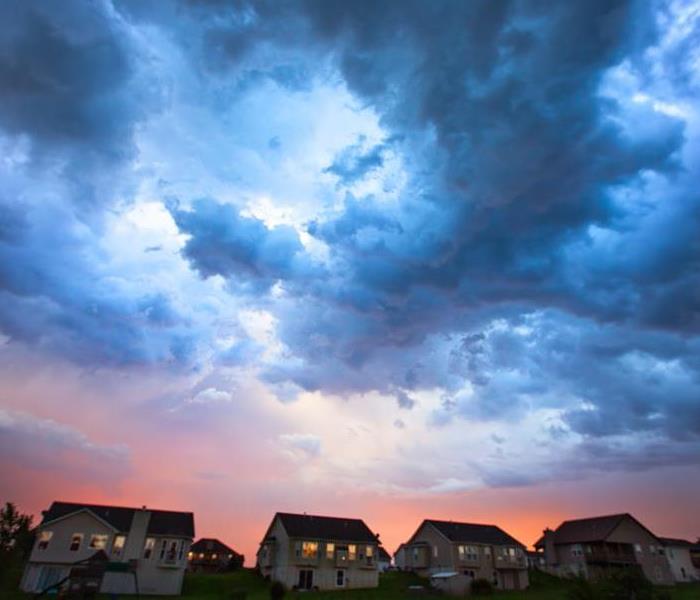 Storm Damage Recovery Tips
When a storm arrives on Long Island, it may cause some unexpected damage to your home. And while you can't control the storm's damage, you can control how you are prepared to handle the aftermath. The Suffolk County storm damage restoration professionals at SERVPRO of Ronkonkoma are here to share some helpful tips on what you should do after your house sustains storm-related damage.
Assess Your Home's Damage
Once the storm has passed and it is safe to go outside, inspect your home thoroughly to learn the extent of the damage. You'll want to check for things such as broken electrical lines, loose shingles, broken siding, and more. However, if you see damaged power lines on the ground, it's vital to keep ten feet back and contact the utility company right away. Another thing to keep in mind: If you smell gas or suspect a leak, quickly evacuate your home immediately and do not close the door behind you. Once you're a safe distance away from your house, call 911 and your gas company's emergency number without delay.
Contact Your Insurance Company
Before reaching out to your insurance provider, take photos of any house impairments. Ensure you do not transfer or remove anything until you have documented it through pictures and/or videos. With proper documentation, the insurance company can assess the damage and compensate you. Moreover, it's imperative to save your receipts for hotel costs and other temporary finances for your insurance claim. Your insurance provider will assist you with a claim number and a list of local emergency service workers.
Begin the Restoration Process
Once you have your insurance claim number, determine what storm damage-related repairs you need to have repaired and restored. Regardless of the size of the damage, completing any repair or restoration work on your own can be dangerous — that's why it's important to have a professional complete this work for you. They'll be able to assess the situation in a timely manner and get your home back on its feet "Like it never even happened.".
Need Storm Damage Cleanup and Restoration in Suffolk County?
If your home sustains storm damage, choose SERVPRO of Ronkonkoma to help save the day. Our team of storm damage cleanup and restoration professionals has the expertise and specialized training to restore your Suffolk County home quickly and efficiently, "Like it never even happened."
Contact us today at (631) 585-0007 or fill out a form for assistance!