How Stagnant Ice Can Cause Water Damage
1/11/2021 (Permalink)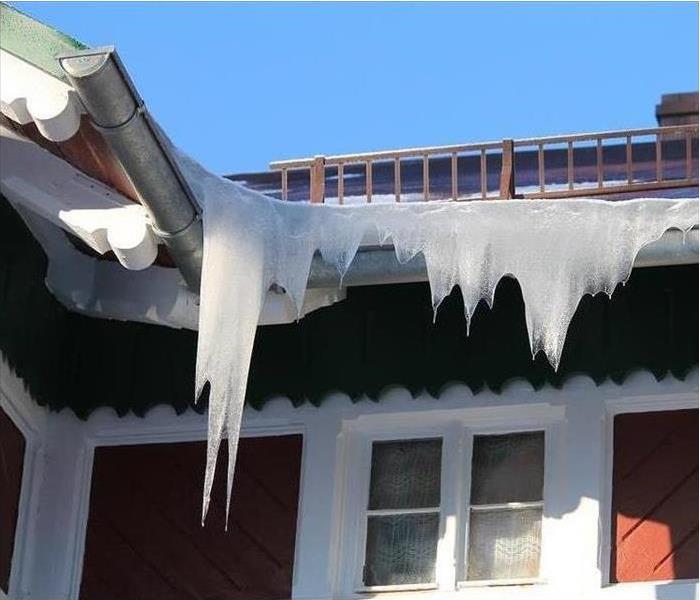 There's a lot of ground water in the soil surrounding a home, it is likely that there is lingering water in the gutters and there's water in the pipes and in other reservoirs. When temperatures start to fall, however, that water solidifies into ice. While we may not think much about it because it isn't obviously visible to us, that ice could be causing a lot of home damage without our realizing it. To understand just how ice can cause home damage, here are a few methods to watch out for this year.
Separation/Cracking
Although the water has solidified into ice, in a way, it is still moving. Pressure and marginal temperature differences cause the ice to expand and contract. This can force the surrounding area to move, separate and can even crack or chip. It can also make pipes or whatever is holding that water become brittle and fragile. When the ice eventually melts, that separation may still be present which can cause water leaks and further damage.
Mold
No one likes the idea of mold in the home. Just because water has frozen into a solid form doesn't mean that the lurking mold within is gone. Because mold spores are always present, if anything, it can actually be preserved. That mold can then quickly be spread as the ice slowly melts. As such, this mold can take over an entire wall if not treated quickly. This type of mold can cause health effects, and can even begin to eat away at the walls/interior of the home. Regardless of season, it's important to understand that mold can be prevalent at any time.
Water Damage
Perhaps the most obvious problem stagnant ice can cause is water damage. Once that ice melts, that water begins leaking everywhere. Through the cracks that the ice caused by its pressure and shifting, that water can reach other parts of the home and damage them completely. This can become an issue that leads to costly damage and may keep you out of your home or business for an extended period of time.
Even with proper care, emergency situations happen, are sudden and cannot be avoided. If your home or business has experienced water damage this season, there's only one company who can quickly and effectively restore the area.
With SERVPRO of Ronkonkoma, we take pride in our fast and effective response team, dedicated to getting you back up and running as soon as possible.
Contact us at (631) 296-0367 for rapid response and service!